Local regulations that may impact your dock design
Master Docks closely monitors dock and lift regulation changes for the lakes we service. Below are permitting details for Lake Bowen and Lake Blalock, which includes materials and design information.
Lake Wardens – Spartanburg Water System (SWS)
Bowen Office: 8515 Highway 9, Inman SC 29349 Tel: (864) 592-2240
Blalock Office: 1925 Sandy Ford Road, Chesnee, SC 29323 Tel: (864) 578-5442
Marine Structure Guidelines
Maximum size
924 Square Feet. This is from an aerial view. If you have a boat slip or boat lifts those count towards the overall square footage. Can only have a single tie from shoreline, this means you can't for example have a dock walkway attached to the shore and also a Jet ski lift attached to the shore. That would create 2 ties to the shoreline.
Maximum lifts
2 boat lifts are allowed
2 Personal Watercraft (Jet ski) lifts are allowed
Property line boundaries
Minimum 14′ away from neighbor property side line
No structure to extend beyond 1/3 the width of the cove
Minimum shoreline width 40′
Docks Allowed
Type A:
18′ walkway – 12′ x 18′ Dock – No engineered drawing required
Type B
18′ walkway – 24′ x 28′ Dock with 10′ x 24′ boat slip.
– Boat Lift not attached to Dock
– No Engineered drawing required

Note: when you attach your boat lift or PWC to your dock it will make it a Type C dock


Type C
All other docks require a South Carolina Professional Engineer stamped drawing. Two story docks are not allowed

Maximum 924 Square feet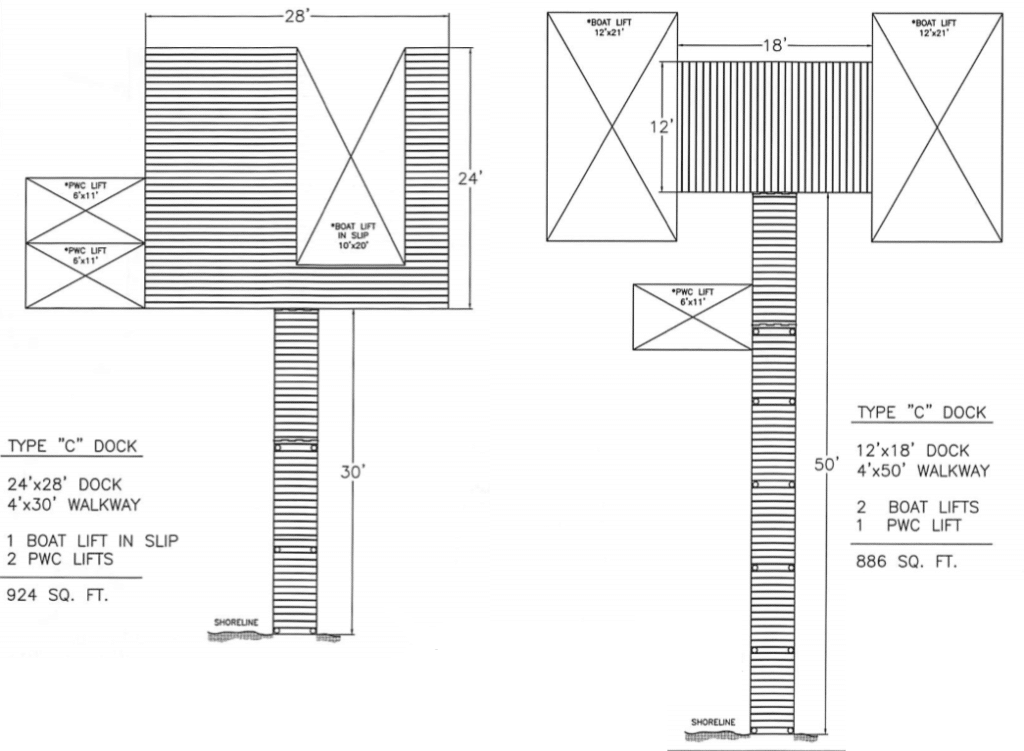 Roof: All roofs need to be Hunter (dark) green in color.
Insurance: Dock insurance is required
Permit
New docks and boatlifts
All docks and boatlifts require an Spartanburg Water System approved permit. You can apply for a permit by clicking the following link: Spartanburg Water System Permit
Maintenance
Ongoing minor repair of any structure less than 20% of primary component or combination within one year need to be submitted to the Lake Warden office and can be approved by SWS staff.
Repair, Replacement or Reconfiguration
Replacement of structural components or more than 20% in one year for dock, boatlift or PWC. Requires that the structure meets current SWS standards and requires a South Carolina Professional Engineer stamped drawing. A permit needs to be requested at the Lake Warden Office.
Emergency Repairs
When emergency action is required to secure the structure in order to prevent additional property damage, safety hazards or threat to water quality. Contact the Lake Warden and approval will be granted on a case-by-case basis.

Click here for a link to SWS Marine Structure Guidelines
Shoreline Erosion Control
Below is an illustration what is required for shoreline erosion control. Seawalls are no longer allowed.
---
At Master Docks we provide high quality custom aluminum and steel docks and lifts at great competitive prices for Lake Bowen and Lake Blalock. Hewitt, Floatair, Wave Port PWC & more! If you have any questions on what you can and cannot build or need maintenance repairs on your dock or lift, contact us today for help.