Do Not Require Attachment to a Structure
We carry an array of boat lifts, which do not need to be attached to an existing dock to operate. When looking at Stand Alone lifts, however, the solidity of the lake bottom must be tested to ensure it can properly support the lift. Also water depth is a big consideration. If interested in any of our Stand Alone lifts, contact us and we will survey your location to ensure the lift will work as planned. Each with it's unique pro's and cons.
$ Entry Level – Cable lifts – Hi Lifter
$$ Performance lifts – Hydraulic lifts – Sunlift – Trilift – Wave Armor Drive On
$$$ Premium – Float Lift
We offer a line of Hewitt, Wave Armor and Sunstream Lifts that cover a wide range of situations.
The HI-LIFTER
Straight Up, Straight Down – A Lift for Deep or Changing Water Levels
The Hewitt Hi-Lift is an economical, direct vertical rise lift ideally suited for deeper water applications or sites where water levels may fluctuate. These lifts are based on simple, proven technology but are distinguished by Hewitt's rock-solid construction and unique frame design, incorporating side bars that provide easier boat access and greater stability than typical "V"-style designs. While the competition's adjustable side bars limit maximum lift height, Hewitt's twelve different Hi-Lift models provide lifting capacities ranging from 1100 lbs to 10,000 lbs.
The Perfect Low-Water Lift Offering Effortless Operation
Imagine pressing a button on a key-fob remote control as you walk to your dock and having your boat in the water and ready to go when you arrive. That's the convenience and sophistication you get with a Hewitt hydraulic cantilever lift. Based on our standard cantilever design, these lifts can rest dockside in as little as 24" of water, perfect for use with shorter docks. Available in 3900 lb and 5200 lb capacity models. Hewitt hydraulic boatlifts are the shallowest boatlift in the industry since 2001 operating with water levels only 6" deep.
The Sunstream SunLift™ is the durable, phone integrated, fast and quiet lift up to 32,000 lbs
Combines powerful hydraulic technology, durable components and sophisticated engineering to deliver a fast and reliable lifting and launching experience for your boat or personal watercraft. Now you can use your boat as easily as you use your car, and get out on the water more often, with more fun. Remote control with optional motor-stop and guide-on systems make operating and docking easy for even for an inexperienced skipper. Designed with the user in mind, the SunLift™ pioneered the hydraulic freestanding boat lift revolution, and is still known for its reliability, durable construction and safe design. With over sixteen years of service in salt and freshwater environments, the SunLift™ is refined and proven. Sunstream's wide range of accessories optimizes the lift for your specific needs.
The Wave Armor SLX 10 boat port or X24 Extreme port ideal self floating docking solution
The Boat Wave Port is a self-leveling floating boat port that fully distributes vessel weight over the full span, providing exceptional lift and buoyancy up to 7500 lbs. with no air assistance. Specially designed connection pins allow for an articulating entrance, making loading and launching quick and easy.
The modular design can accommodate boats 18' to 28' in length and feature adjustable bunk rollers that help maintain a level and stable resting position for your vessel. Works only with V-hull boats.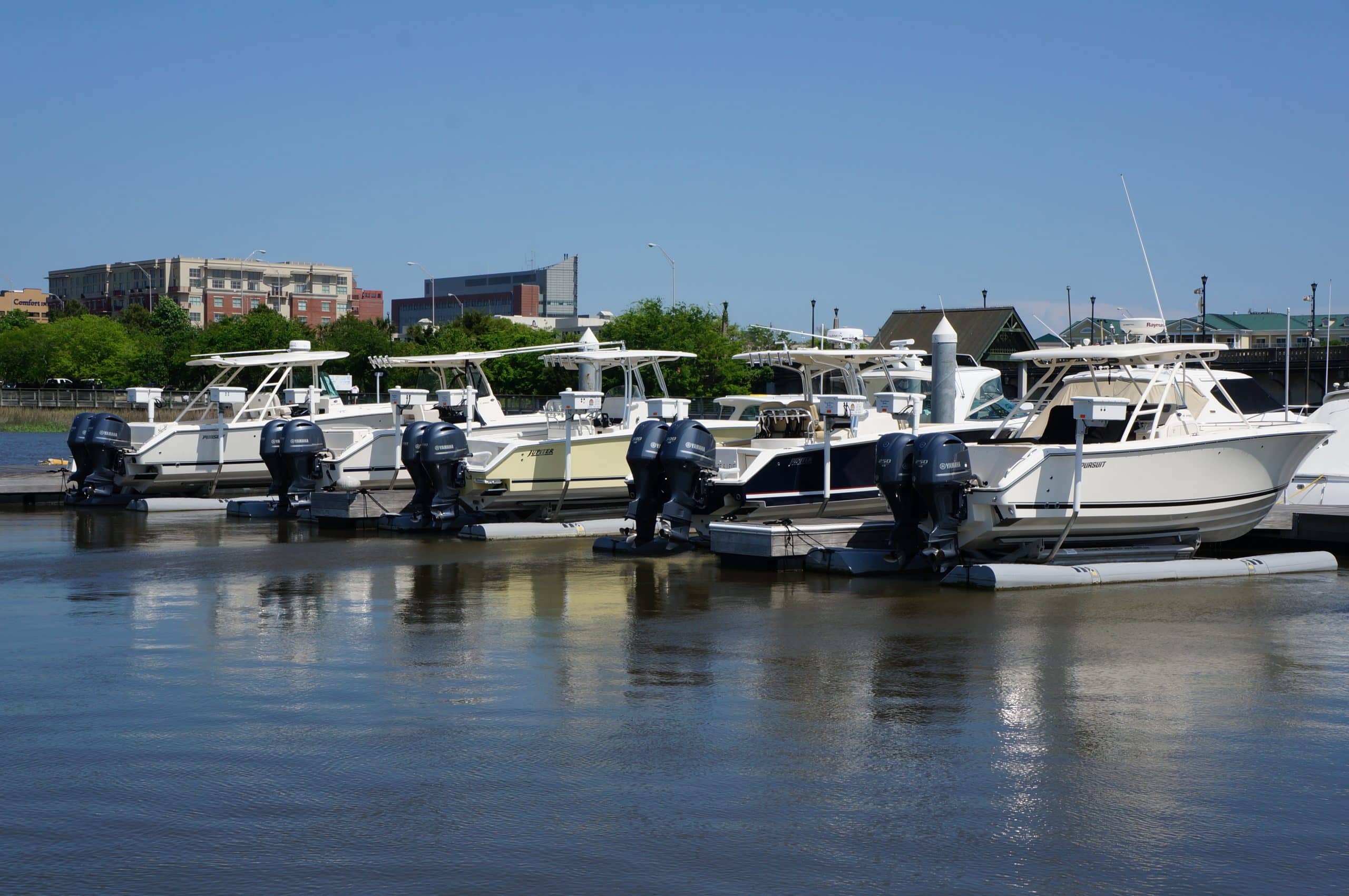 The Sunstream Float lift™ is the premium free floating lift ideal for varying water levels, marina's and low water.
Visualize using your boat like your car with the unmatched speed, security, versatility and ease of use of the Sunstream FloatLift™. Powerful hydraulics pull the foam-filled polyethylene floats under the boat in as little as 30 seconds with the simple press of a remote control. In the raised position, the virtually unsinkable floats are automatically secured with patented GravityLock™. The floats also make it easy to access your hull and prop for cleaning and maintenance.
Simply tie the FloatLift™ to most places you can tie your boat: slips, side-ties or even a mooring buoy. The DC system can be charged using either the solar or AC powered options. The standard rear guides and remote control make docking incredibly easy.
The FloatLift™ is designed for fresh or salt water, with an aluminum frame, stainless steel hardware, marine grade hydraulic cylinders with stainless shafts, and marine grade hoses. The rubber-capped SuperBunks™ are not only durable, but provide the ultimate in cushioned support for your hull.
We have canopies available to keep your boat out of the damaging sun and can even custom fit a metal roof if desired.
To learn more specifically about Hewitt lifts, visit their website or contact us today.

We also carry several key accessories to make utilizing your boat lift easier. See below for our top Lift accessories:
Sunstream Swift Shield automatic boatlift cover